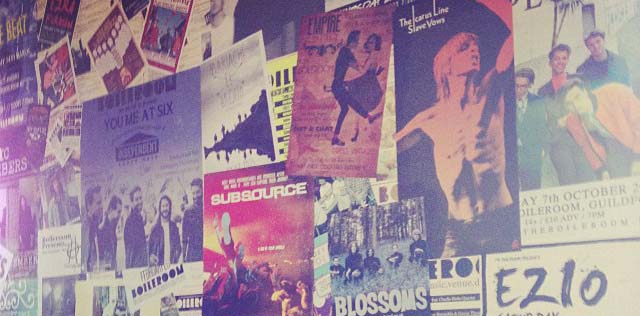 Please invest in us so that we can continue to invest in Guildford's creative community.
*To become a patron, please click the link here
*
Head over to our gallery here to see the venue maintenance-in-progress
We are a music and arts community hub in Guildford. For 9 years we have been producing live music events at our 300 cap music venue. Over the years we have developed our programming considerably, bringing national and international touring acts to Guildford like Soweto Kinch, Ed Sheeran, Catfish & The Bottlemen, Reel Big Fish, The Bronx, First Aid Kit (to name a few); as well as booking for external events like The Boileroom stage at Redfest, Guildford Beer Festival, Magic Summer Live, and Staycation Godalming.
We are avid supporters of our local creative community and have many projects that we run, including:
ORIGINATE STUDIOS
Our brand new space, supporting local artists and creative start-ups in the area from different artistic disciplines.
CRAFT CLUB
Monthly group for all ages and abilities, learning basic skills and socialising.
THE PROJECT
Youth mentoring programme supporting young artists. Regular live showcases and workshops.
*THE PRACTITIONERS - CREATIVE COLLECTIVE
*A supportive networking group set up in collaboration with Libby Hobbs for creative start-up businesses, entrepreneurs, and practitioners to share tips, discuss ideas, collaborate, and innovate.
*WHAT IS YOUR ACTIVISM?
*A collaboration between Boileroom and Bad Mouth. Art, craft and discussion workshops focused on personal politics and activism.
SUNDAY ASSEMBLY GUILDFORD
**a secular congregation that celebrates life. Our motto: live better, help often, wonder more. Our mission: A Sunday Assembly in every town, city and village that wants one. Our vision: To help everyone live life as fully as possible.
**
*THE WOMEN'S EQUALITY PARTY GUILDFORD
*The Women's Equality Party is a new collaborative force in British politics uniting people of all genders, diverse ages, backgrounds, ethnicities, beliefs and experiences in the shared determination to see women enjoy the same rights and opportunities as men so that all can flourish.
*SOCIMA
*SoCiMa Cinema, is a not-for-profit social cinema society. Experience 'Life Seen through the Cinematic Lens'' as we show you though provoking British, Independent, blockbuster and classic films and documentaries. We want to share the experience and generate discussion and debate by having fun with film. Join us twice-monthly for film and chatting in a friendly, relaxed atmosphere.
SISTERS OF SURREY
A showcase gig night celebrating women in music from Surrey and the surrounding areas.
PUNK ROCK YOGA
All yoga classes are for mixed ability and suitable for beginners. Combining Punk Rock music and Dru Yoga, a descendant of hatha yoga, working on the body, mind and spirit to improve strength and flexibility, creating core stability, building a heightened feeling of positivity and is deeply relaxing.
SURREY SOUP
a volunteer effort and exercise in community, food, creativity and good times. We are creating new opportunities and lasting cultural exchange with our locality with micro-grants from the community, for the community.
THE BIG DRAW
The Big Draw is the world's biggest drawing festival with thousands of enjoyable, and mainly free, drawing activities which connect people of all ages with museums, outdoor spaces, artists, designers, illustrators - and each other. The Big Draw is for anyone who loves to draw, as well as those who think they can't!

BECOME A PATRON
Support our community work and become a Patron. Visit www.patreon.com/theboileroom
SUPPORTING OUR LOCAL CREATIVE COMMUNITY SINCE 2006
If you are a local creative, social enterprise, charity or not-for-profit organisation; and are looking for a collaborator for projects/events, or a space to use; we want to hear from you! Please get in touch with toni@theboileroom.net or lydia@theboileroom.net
For full details on all of our community events, head to our What's On listings page.
More recently in 2014/2015 we were awarded the title of Best Bar None overall winner and also picked up the award for Best Independent Pub. Unanimously selected by the judges, we were praised for exceeding Best Bar None criteria, for its excellent community and charity engagement, and for investment in young people. We were also applauded for taking the emphasis of pub life away from 'vertical drinking' by providing a place of entertainment that offered a positive and safe experience to our customers.
We were also the 100th venue to be awarded Bronze status from Attitude Is Everything, an organisation that improves deaf and disabled people's access to live music - inclusivity is really important to us, we believe that there should be no barriers for anyone to enjoy live music.
We have developed and thrived without financial aid; but due to many factors this has become increasingly difficult, and to ensure our survival we are reaching out to our local community.
We need your help to continue with this work and develop our new creative space, we love what we do with a passion that is limitless.
*To become a patron, please click the link here
*
Head over to our gallery here to see the venue maintenance-in-progress